Is This Technology Being Used in Other Countries?
Food irradiation has been approved in 41 countries for more than 30 products. Independent scientific committees in Denmark, Sweden, the United Kingdom, Canada and the World Health Organization have endorsed food irradiation.
There are more than 150 irradiation facilities in over 40 countries. An estimated 55 facilities worldwide use food irradiation and related food irradiation research, according to a 1989 Library of Congress Report.
Many countries sell irradiated spices, onions and potatoes. Irradiated shrimp and frog legs and other products are sold in the Netherlands; irradiated fruit, chicken, cheese and other products are sold in France; and other countries offer products from sausage to tea. In South Africa shelf stable irradiated meals are sold to sports and recreation enthusiasts.
Below is a map and list of the countries that either use irradiation for commercial use or have approved food irradiation.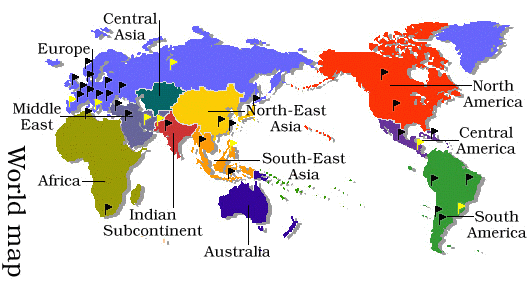 Black Flag: Countries with Commercial Irradiation of Food
Asia
Bangladesh

 

China

 

India

 

Indonesia

 

Iran

 

Japan

 

Korea

 

Thailand

 
Africa
South America
Argentina

 

Brazil

 

Chile

 

Peru

 
Europe
Belgium

 

Croatia

 

Czech Republic

 

Denmark

 

Finland

 

France

 

Germany

 

Hungary

 

Israel

 

Netherlands

 

Norway

 

Poland

 

Ukraine

 

United Kingdom

 

Yugoslavia
North America
Canada

 

Cuba

 

Mexico

 

United States
Yellow Flag: Countries with Approval of Food Irradiation
Asia 
Pakistan 
Phillippines 
Russian Federation 
Syria 
Europe
South America
Primary Category