Are Irradiated Foods in U.S. Supermarkets Now?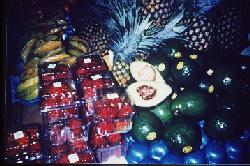 Irradiation is used to sterilize household products like Band-Aids, cotton balls, contact lens solution, baby pacifiers and many packaging items, sterilize medical products such as surgical gloves, destroy bacteria in cosmetics, make non-stick cookware coatings, purify wool, perform security checks on hand luggage at airports and make tires more durable.
Until recently only bulk dried spices were irradiated in the United States. Since January 1992 irradiated produce has been sold in some U.S. supermarkets. Starting in 1995, several thousand pounds of tropical fruits annually were irradiated and sold in Midwest and California markets. In July of 2000 a new facility in Hawaii permitted the transport of high quality tropical fruits previously banned for insect quarantine purposes.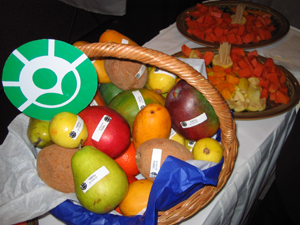 In May of 2000, irradiated frozen ground beef was first sold in Minneapolis and quick spread to adjacent states. In early 2001 over 20,000 supermarkets in more than 16 states offer irradiated patties by Huiskens. Colorado beef offers frozen patties from supermarkets. In the mail order arena, several providers including Omaha steaks and Schwan's offer irradiated ground beef. Frozen irradiated chicken breasts have been available in the Florida area since the late 1990's. Consumer reception has been positive and the market share of frozen irradiated ground beef has increased. The availability of irradiated food has also increased (click here for a list of supermarkets offering irradiated food). As more consumers become aware of the high quality and enhanced safety of these products, consumer demand and availability should increase.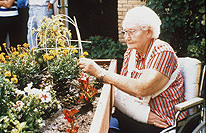 Although marketing is still on a small scale, sales of irradiated foods clearly demonstrates that consumers will select irradiated over non-irradiated foods when they perceive benefits, such as high quality or longer lasting produce or safer meat and poultry.
Irradiation sterilization of meals prepared for hospitalized patients is an advantage to those whose immune systems have been suppressed by disease or therapy.

Irradiated meat and poultry are also used in some health care facilities where a high level of safety is required. 
Irradiated foods are labeled with the radura and the word, "irradiation."
Primary Category